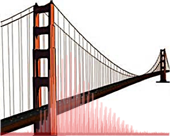 Twelfth International Symposium on
Mass Spectrometry in the Health & Life Sciences:
Molecular & Cellular Proteomics
Twelfth International Symposium on
Mass Spectrometry in the Health & Life Sciences:
Molecular & Cellular Proteomics
Registration
Register on-line until August 20, 2017.
It is important to register early. The Organizing Committee has limited the total number of participants to 400 to ensure the traditional opportunity for high quality scientific interchange at these meetings.
Registration includes:
Mini-Symposium
Symposium
Poster Sessions
Reception
The Conference Dinner is an additional $100 per person ($150 after August 20, 2017).
For credit card payment only, register now on our secure online registration page or click on an option below.
Registration:
Conference Dinner Tickets Only:
For payment by check:
please complete the Symposium Registration Form (best viewed using Adobe Acrobat) and mail it to:
Nancy Wang
UCSF Mass Spectrometry Facility
600 16th Street, Genentech Hall, MC 2240
San Francsico, CA 94143-2240
Dinner Tickets:
The conference dinner will be held the evening of Wednesday, August 23rd in the beautiful historic San Francisco Presidio at the General's Residence — Golden Gate National Recreational Area, 1 Fort Mason, San Francisco. Dinner tickets can be purchased at time of registration for $100 per person or on site for $150.
Graduate Student Travel Awards:
A limited number of travel awards are available for graduate students submitting outstanding poster abstracts. Visit the Graduate Student Travel Awards page for more information.
Visa and Passport Information:
Meeting attendees arriving from outside the United States are encouraged to apply for visas as early as possible. For further information regarding visas please click here. Note that registration refunds will not be issued after July 1, 2017 for denied visas. A service charge of $50 USD will be assessed on all refunds made by July 1, 2017.
Cancellation Refunds:
No refunds will be issued for cancellations made after July 1, 2017.
For further information please contact the Symposium office.
Register now on our secure online registration page.
---
last modified Thu May 11 19:06:34 2017 PDT