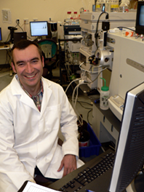 Juan A. Oses-Prieto
Position
Associate Research Biochemist
Email
joses@cgl.ucsf.edu
Education
| | | | |
| --- | --- | --- | --- |
| Ph.D. | Cell Biology | 1999 | University of Navarra, Pamplona, Spain |
| M.A. | Biochemistry | 1997 | University of Navarra, Pamplona, Spain |
| M.A. | Biology | 1994 | University of Navarra, Pamplona, Spain |
Work History
| | |
| --- | --- |
| 2017-present: | Associate Research Biochemist, Mass Spectrometry Facility, Department of Pharmaceutical Chemistry, University of California, San Francisco |
| 2009-2017: | Assistant Research Biochemist, Mass Spectrometry Facility, Department of Pharmaceutical Chemistry, University of California, San Francisco |
| 2009-2013: | Visiting Professor, Department of Biochemistry, University of Navarra, Pamplona, Spain |
| 2004-2009: | Postdoctoral Fellow, Mass Spectrometry Facility, Department of Pharmaceutical Chemistry, University of California, San Francisco |
| 2001-2008: | Instructor, Department of Biochemistry, University of Navarra, Pamplona, Spain |
| 2000-2004: | Postdoctoral Fellow, Department of Cell Biology and Biophysics, University of Kansas, Kansas City, MO. (supervisors: Drs. Marino Martinez-Carrion and Ana Iriarte) |
Research Interests
To develop a greater understanding of the intimate details of the processes inside living cells requires a deep analysis of the molecular machinery involved in those activities. Proteins are the functional core of many of these mechanisms. A complex interaction network between different polypeptides regulates the activities of a large percentage of the cellular proteins. My research interest is focused on understanding how protein-protein interactions and post translational modifications regulate the activity of the molecules involved in signal transduction pathways, as well as understanding the structural molecular basis of their folding and association.
Select Publications
Choy JW, Bryant C, Calvet CM, Doyle PS, Gunatilleke SS, Leung SSF, Ang KKH, Chen S, Gut J, Oses-Prieto JA, Johnston JB, Arkin MR, Burlingame AL, Taunton J, Jacobson MP, McKerrow JM, Podust LM, Renslo AR. Chemical–biological characterization of a cruzain inhibitor reveals a second target and a mammalian off-target, Beilstein J. Org. Chem. 9, 15–25. (2013)
Ruperez P, Gago-Martinez A, Burlingame AL, Oses-Prieto JA. Quantitative phosphoproteomic analysis reveals a role for serine and threonine kinases in the cytoskeletal reorganization in early T-cell receptor (TCR) activation in human primary T-cells, Mol Cell Proteomics. 11(5), 171–86. (2012) [Pubmed]
Tang W, Yuan M, Wang R, Yang Y, Wang C, Oses-Prieto JA, Kim TW, Zhou HW, Deng Z, Gampala SS, Gendron JM, Jonassen EM, Lillo C, Delong A, Burlingame AL, Sun Y, Wang ZY. PP2A activates brassinosteroid-responsive gene expression and plant growth by dephosphorylating BZR1, Nat Cell Biol. 13(2), 124–31. (2011) [Pubmed]
Ogawa Y, Oses-Prieto J, Kim MY, Horresh I, Peles E, Burlingame AL, Trimmer JS, Meijer D, Rasband MN. ADAM22, a Kv1 channel-interacting protein, recruits membrane-associated guanylate kinases to juxtaparanodes of myelinated axons, Journal of Neuroscience. 30, 1038–48. (2010)
Bradshaw RA, Medzihradszky KF, Ruperez P, Oses-Prieto JA, Burlingame AL. Post translational modifications: Identifying the wheat and sorting the chaff in Proceedings of 4th International Peptide Symposium (J. Wilce, ed.) Topic: Clinical Proteomics (2008).
Tang W, Kim TW, Oses-Prieto JA, Sun Y, Dent Z, Zhu S, Wang R, Burlingame AL, Wang ZY. BSKs mediate signal transduction from the receptor kinase BRI1 in Arabidopsis, Science, 321(5888), 557-560 (2008). [Pubmed]
Tang W, Deng Z, Oses-Prieto JA, Suzuki N, Zhu S, Zhang X, Burlingame AL, Wang, Z-Y. Proteomic studies of brassinosteroid signal transduction using prefractionation and 2-D DIGE, Molecular & Cellular Proteomics, 7(4), 728-738 (2008). [Pubmed]
Oses-Prieto J, Zhang X, Burlingame AL. Formation of epsilon-formyllysine on Silver-Stained Proteins:Implications for Assignment of Isobaric Dimethylation Sites by Tandem Mass Spectrometry, Molecular & Cellular Proteomics, 6(2), 181-192 (2007). [Pubmed]
Iacovides D, O'Shea C, Oses-Prieto J, Burlingame A, McCormick F. Critical role for arginine methylation in adenovirus-infected cells, Journal of Virology, 81(23), 13209-13217 (2007). [Pubmed]
Deng Z, Zhang X, Tang W, Oses-Prieto JA, Suzuki N, Gendron, JM, Chen H, Guan S, Chalkley RJ, Peterman KT, Burlingame AL, Wang Z-Y. Proteomic study of brassinosteroid response in Arabidopsis, Molecular & Cellular Proteomics, 6(12), 2058-2071 (2007). [Pubmed]
Natal C, Oses-Prieto JA, Pelacho B, Iraburu MJ, Lopez-Zabalza MJ. Regulation of apoptosis by peptides of fibronectin in human monocytes, Apoptosis, 11(2), 209-219 (2006). [Pubmed]
Rodriguez-Viciana P, Oses-Prieto J, Burlingame A, Fried M, McCormick F. A Phosphatase Holoenzyme Comprised of Shoc2/Sur8 and the Catalytic Subunit of PP1 Functions as an M-Ras Effector to Modulate Raf Activity, Molecular Cell, 22(2), 217-230 (2006). [Pubmed]
Oses-Prieto JA, Bengoechea-Alonso M, Artigues A, Iriarte A, Martinez-Carrion M. The nature of the rate-limiting steps in the refolding of the cofactor-dependent protein aspartate aminotransferase, J Biol Chem, 278(50), 49988-49999 (2003). [Pubmed]
Oses-Prieto JA, Lopez-Moratalla N, Santiago E, Jaffrezou JP, Lopez-Zabalza MJ. Molecular mechanisms of apoptosis induced by immunomodulating peptides on human monocytes, Archiv Biochem Biophys, 379(2), 353-362 (2000). [Pubmed]
---