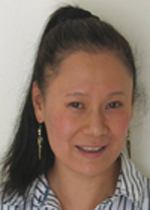 Kathy Li
Position
Staff Research Associate
Email
kathyli@cgl.ucsf.edu
Education
| | | | |
| --- | --- | --- | --- |
| M.Sc. | Chemistry | 2005 | San Francisco State University, San Francisco, CA |
Work History
| | |
| --- | --- |
| 2007-Present: | Staff Research Associate, Mass Spectrometry Facility, UCSF, CA |
| 1995-2007: | Chemist, PolyPlus Company, Berkeley, CA |
Research Interests
My current work involves enzymatic digestion of proteins and gel electrophoresis prior to mass spectrometric analysis. The main focus is to support collaborative research groups in improving their mass spectrometric data quality through better sample preparation. I am also interested in studying methodology development to facilitate better protein sequence coverage and higher process efficiency in enzymatic digestion of proteins.
Select Publications
Cho Y., Di Liberto V., Carlin D., Abe N., Li K.H., Burlingame A.L., Guan S., Michaelevski I., Cavalli V. Syntaxin13 expression is regulated by mammalian Target Of Rapamycin (mTOR) in injured neurons to promote axon regeneration. J Biol Chem, 289, 15820-15832. (2014) [Pubmed]
Jäger S., Cimermancic P., Gulbahce N., Johnson J.R., McGovern K.E., Clarke S.C., Shales M., Mercenne G., Pache L., Li K., Hernandez H., Jang G.M., Roth S.L., Akiva E., Marlett J., Stephens M., D'Orso I., Fernandes J., Fahey M., Mahon C., O'Donoghue A.J., Todorovic A., Morris J.H., Maltby D.A., Alber T., Cagney G., Bushman F.D., Young J.A., Chanda S.K., Sundquist W.I., Kortemme T., Hernandez R.D., Craik C.S., Burlingame A., Sali A., Frankel A.D., and Krogan N.J. Global landscape of HIV–human protein complexes. Nature, 481(7381), 365–370. (2012) [Pubmed]
Li T, Xu SL, Oses-Prieto JA, Putil S, Xu P, Wang RJ, Li KH, Maltby DA, An LH, Burlingame AL, Deng ZP, Wang ZY, Proteomics Analysis Reveals Post-Translational Mechanisms for Cold-Induced Metabolic Changes in Arabidopsis, Mol Plant, 4(2), 361-374 (2011). [Pubmed]
Wang D, Oses-Prieto JA, Li KH, Fernandes JF, Burlingame AL, Walbot V, The male sterile 8 mutation of maize disrupts the temporal progression of the transcriptome and results in the mis-regulation of metabolic functions, Plant J., 63(6), 939-951 (2010). [Pubmed]
Gronert, S., Li, K. H., Horuichi, M., Manipulating the Fragmentation Patterns of Phosphopeptides via Gas-Phase Boron Derivatization: Determining Phosphorylation Sites in Peptides with Multiple Serines, J Am Soc Mass Spectrom, 16(12), 1905-1914 (2005).
Gronert, S., Huang, R., Li, K. H.,Gas Phase Derivatization in Peptide Analysis 1: The Utility of Trimethyl Borate in Identifying Phosphorylation Sites, Int J Mass Spectrom, 231, 179-187 (2004).
Li, K. H., Huang, R., Gronert, S., Fragmentation Behavior of Small Phosphopeptides after Derivatization with Trivalent Boron Species, Proceedings of the 51st ASMS Conference on Mass Spectrometry and Allied Topics, Montreal, Canada (2003).
---