International Symposium on Mass Spectrometry in the Health and Life Sciences:
Molecular and Cellular Proteomics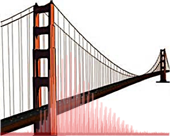 Registration for the Twelfth International Symposium is now open.
The conference will be held August 20-24, 2017 in San Francisco.
This Symposium presents the most up to date forum to learn of the remarkable advances in cell and human biology revealed by ever more innovative and powerful mass spectrometric technologies. The program speakers have pioneered these major contributions to both methodology development and the challenging problems currently faced in cell biology and medicine. Discussions of methodological advances will be juxtaposed with presentations from biological perspectives that describe the role they play in addressing challenging problems and opportunities in protein biology and proteomics. These themes focus attention on the articulation of urgent needs and unsolved problems, as well as on many major successes in deciphering global composition, dynamics and function in virtually all areas of biological research. This includes a major emphasis on the involvement of posttranslational protein modifications and new impressive advantages of the ECD and ETD energy deposition techniques. The program is intended to integrate the perspectives of mass spectrometry with the needs of the biomedical and clinical sciences.
Previous Symposia
---